For more details on membership tiers, ways to support the site and how to purchase comics/collections, click here. The story, all names, characters, and incidents portrayed in this production are fictitious. No identification with actual persons (living or deceased), places, buildings, and products is intended or should be inferred.
---
Dear Patrons,
As we head into a world filled with turmoil, our little enclave of forbidden fantasies hopefully will provide a refuge to the turmoil in the world at large, although some of these stories that I hear happening in the world sometimes do come close to the the tales I tell. A little harrowing and somewhat too close for comfort I must say, that one might suspect me at being a prophet.
That said, I could easily seize the zeitgeist of the moment and pursue a continuance of the CALIPHATE storyline, I will pivot to one that celebrates a very rare and lesser known holiday, a prelude to what is known as Thanksgiving. This holiday, known as the Princess Drumsticks Pageant that happens just a few weeks before Thanksgiving. This story will be a little text-lite for now, but it serves as an expansion on the vignette featured in Carte du Jour 242: Heads and Tails. Which means, legs... legs... and more legs!
And oh, one more thing, I have been pondering at whether to dabble in the AI art. But part of me wonders if I am betraying my own craft. Therefore, I am putting this up to a poll to those who think, if it serves the stories I tell, will it be a detraction or benefit... or how shall I put it... would you think lesser of me and my works if I post once in a while, scenes that are not of the "main course" which could help illuminate the stories I tell, for I must admit, the toll it takes to illustrate scenes, especially ones that are not of the on-topic variety, for example, sceneries or of two characters talking. Would you think lesser of me? Something I will encourage discussion on my Discord channel and the following poll:
Loading ...
With that, I bid you, bon appétit!
Click on the link below to join Forbiddenfeast's Discord Community to keep up to date with exclusive news and updates:
This link is viewable to ACOLYTE, DISCIPLE members or higher & valid for a month as of 11 Oct 2023. If the link has expired, message me and I'll create a new link.

---
I. MISS DRUMSTICKS (1 free full-color artwork, 3 full color artwork for DISCIPLE members or higher)
The procession of legs make their appearance to the watchful eye of the judges.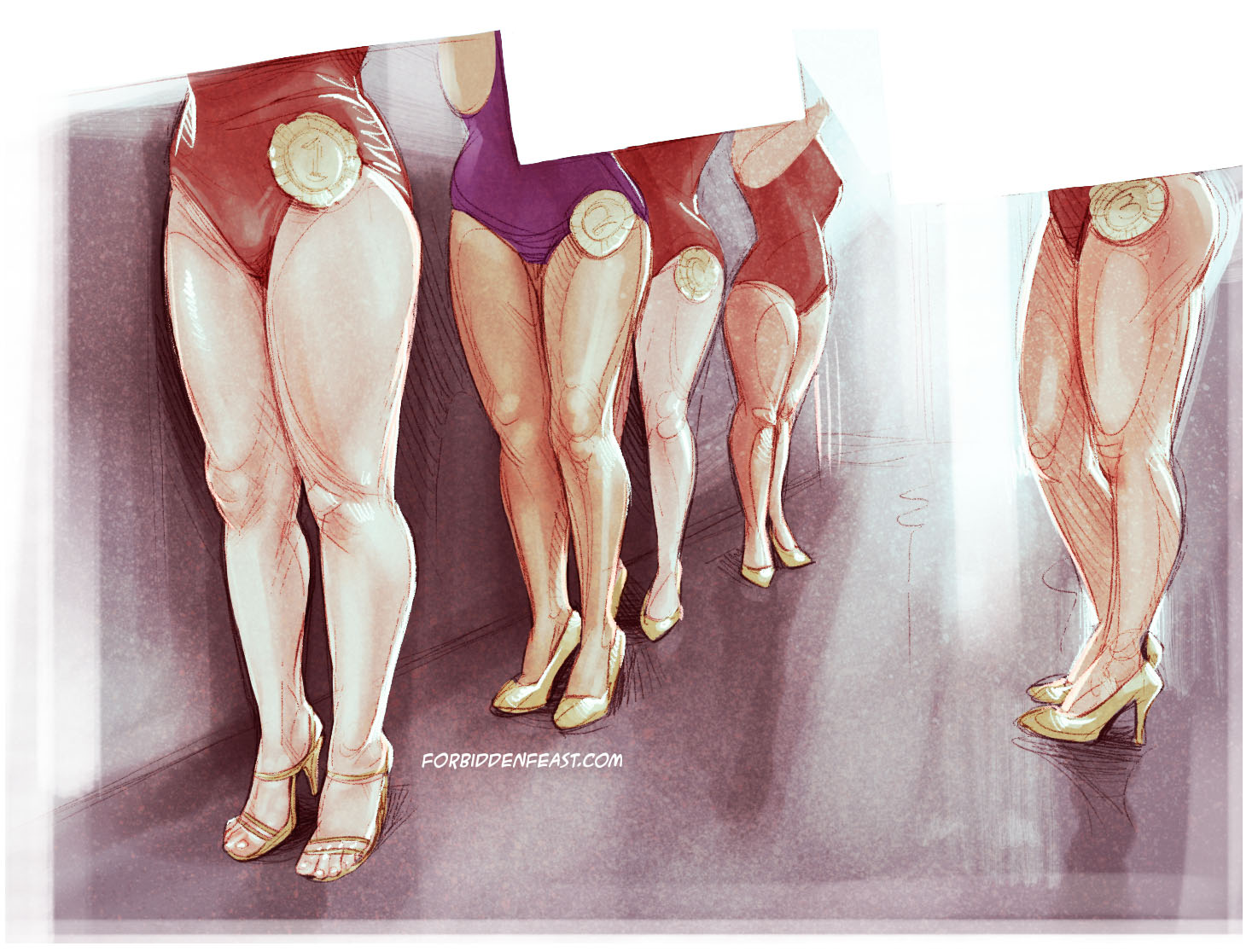 As the chosen one is picked, the drumsticks are harvested and her identity revealed.
The artisan will be hard at work creating a culinary trophy and masterpiece from the harvested limbs.
Sometimes, the recognizable relic had been decorated with memories of her past as she hung and aged to perfection, until the moment comes for the piece to be consumed later.
II. BONUS SKETCHES (3 works in progress for Disciple members and higher)
The first, is a scene related to the Miss Drumsticks pageant. A secondary pageant after the harvesting. The second and third are separate as of yet to be confirmed stories I'm currently working on related to future works.