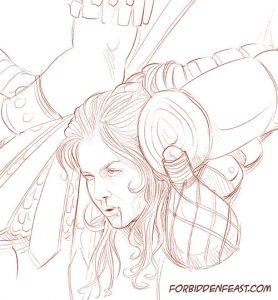 Here's a short update revealing a preview of what to expect for the next Bluebeard Emperor update in the next day or two which should be the final one for the "juicy" Chapter 2. Non subscribers will be able to view some of the images along with reading the entire tale while subscribers will be able to appreciate the drawings, uncensored, involving some of the more graphic parts of the tale.
After this, I should be back to my regular scheduled Tales of the Vanished series comic updates and covers along with other miscellaneous drawings you've come to know so well.
I do hope my detours & side projects are a welcome addition, not a distraction. I know some visitors enjoy more superheroines & celebrities, some who want my previous unfinished comics completed instead of half done, and others who like what I'm doing with my Tales of the Vanished passion project. Even the recent small debate on whether I should leave the feet and hands on or off the dish. I strive to cater to all tastes. I've love to hear feedback on whether I'm serving you well in our very fine dining establishment.