PUBLIC: 3 artworks (2 color + 1 b/w sketch)
ACOLYTES and higher: 5 artworks (1 full color artwork + 1 shaded work in progress + 3 variation sketches of a single scene)
DISCIPLES and higher: 6 artworks (1 color + 2 color WIP + 3 work in progress)
For more details on membership tiers, ways to support the site and how to purchase comics/collections, click here. The story, all names, characters, and incidents portrayed in this production are fictitious. No identification with actual persons (living or deceased), places, buildings, and products is intended or should be inferred.
---
Dear Patrons,
A day late for Valentine's Day, never too late for passion. There are a few more artwork here that continue along the theme of "pairs" while we have a short little Valentine's Day themed story on the menu with a healthy dose of hate and revenge but no less of it, infused with passion and love. On other note, as evident with some of the artwork you see, I've started to add more elements of the handling of the beautiful bodies, an element I've somewhat noticed that has changed from the earlier artworks where the dish is generally the only one served. I hope that this element of "interaction" is just as valued in my artwork as much as the beautiful ladies themselves.
And with my usual signoff during this update, a little earlier than usual which is still later than I wanted (apologies), bon appétit! I hope the wait is worth it!
---
I. REVENGE IS A DISH BEST EATEN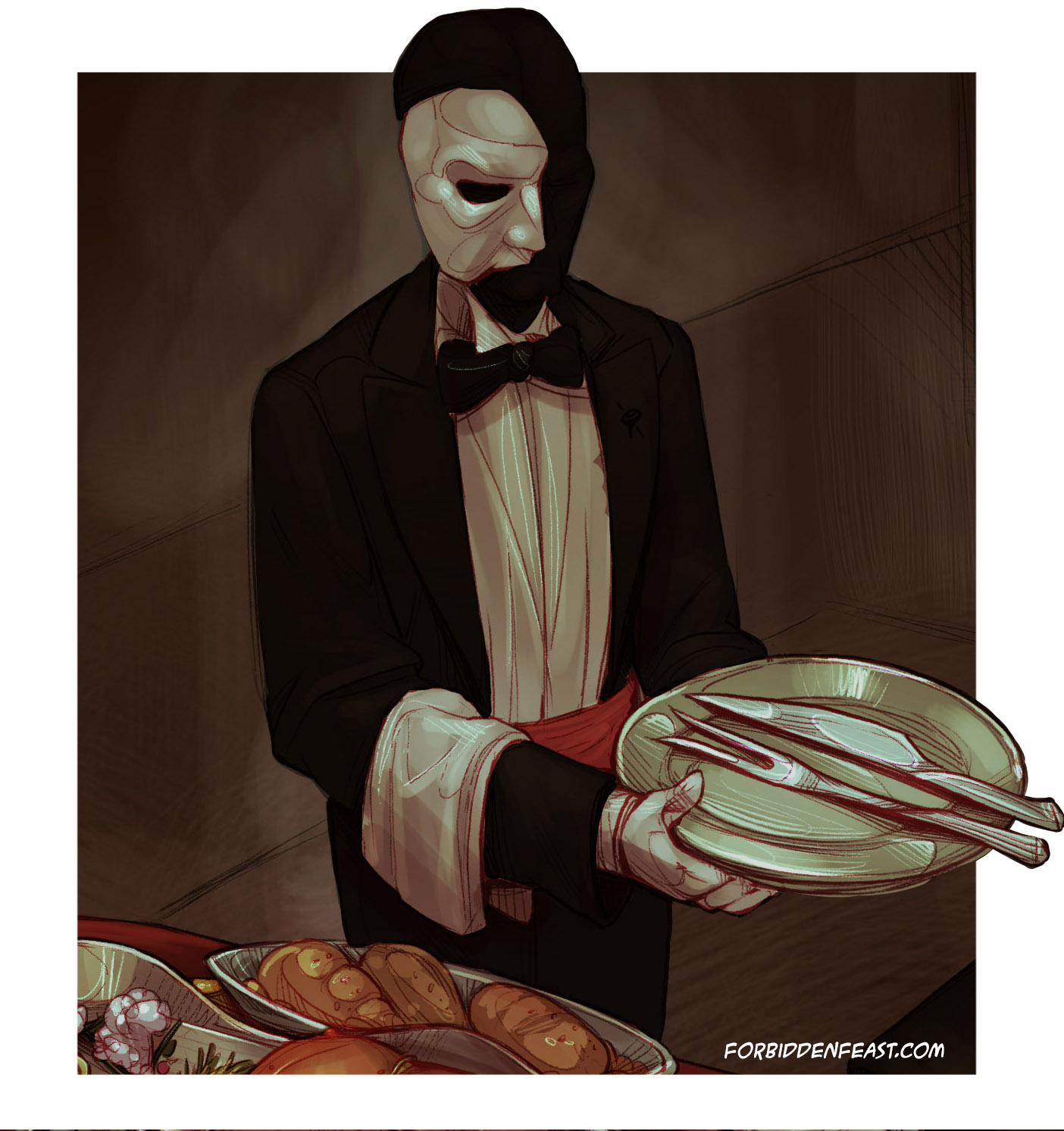 He loved her so much that he wanted to be with her forever. In what way, he knew not the answer until much later when the answer came to him so much more clearly. As much as that love burned for the woman she once was, the hatred was as strong of the woman she is to him now. Mocking, belittling, the courtship period mutated into a devolving series of social crimes. The resentment which ultimately led to murder and her complete disappearance.
How did it come to this? He was wealthy, that was the first. Wealthy enough to garner the attention of a mysterious society who promised everything he wanted. For one, he wanted his wife to conveniently disappear. That was a tough measure for she was a strong woman who would not go willingly. It had to be through a means beyond what was legal. It was through serendipity and a series of business connections that opened this door.
Then that secret slipped, a few off-the-record discussions over a drink, sessions of shared sins opened up the conversation that took dark avenues, until ultimately, it led to the horrors of unimaginable magnitude.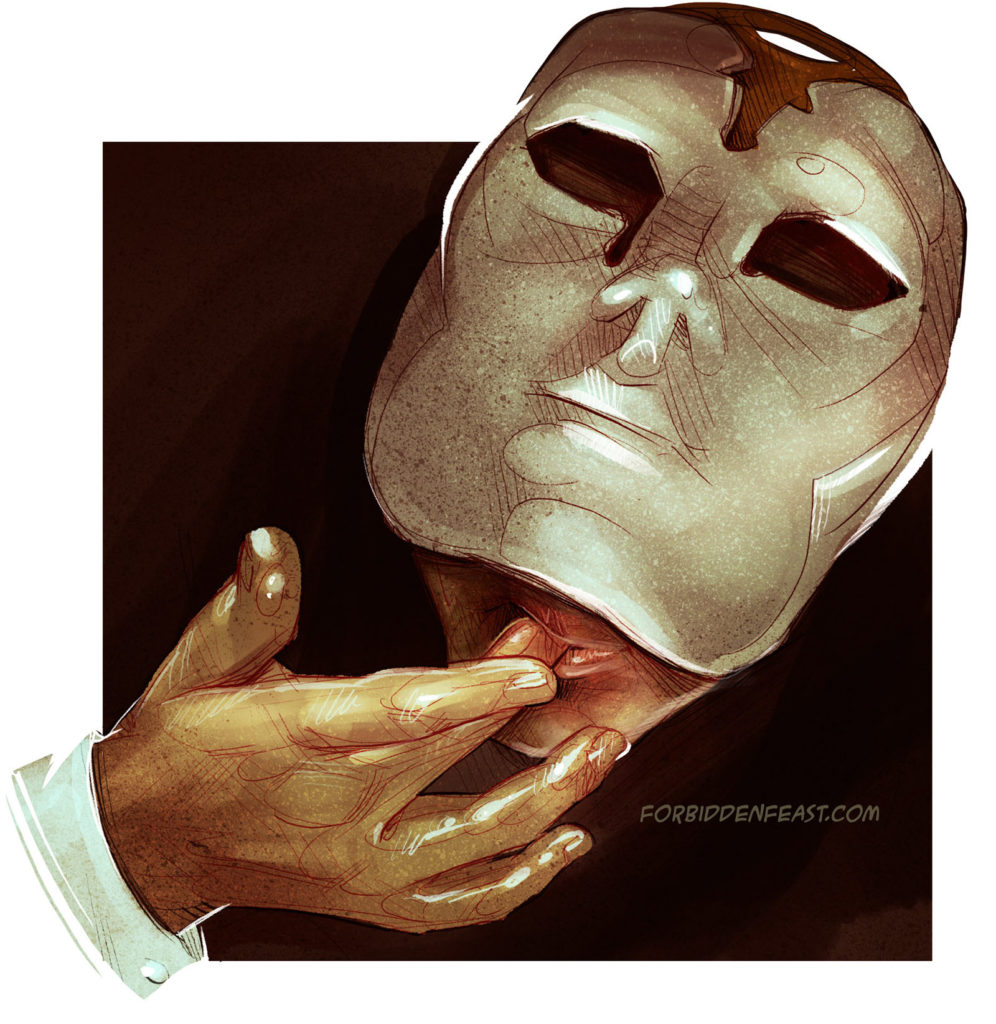 But alas, his beloved wife would be dispatched minus a hefty dent in his wallet, and a even more priceless was his soul and loyalty, offering up his life and career to be vulnerable to blackmail. He was fine with this. He trusted these people with his reputation through shared sin. He still loved her strongly. She was a proud woman, and beautiful. In life, he loved her, but with her he did not love himself. In death, silent, heavy, she was angelic. She was again, that girl he courted. The silence of body language, of innocent and naive love. And though unwilling, ultimately she offered herself up to him as the ultimate sacrifice. Her flesh would vanish under the heat of the flame and the moisture of sweet juices. She would be with him forever, in untangled matrimony till death do they part.
Wasn't that the promise which was made?
---
II. LET'S PLAY ANOTHER GAME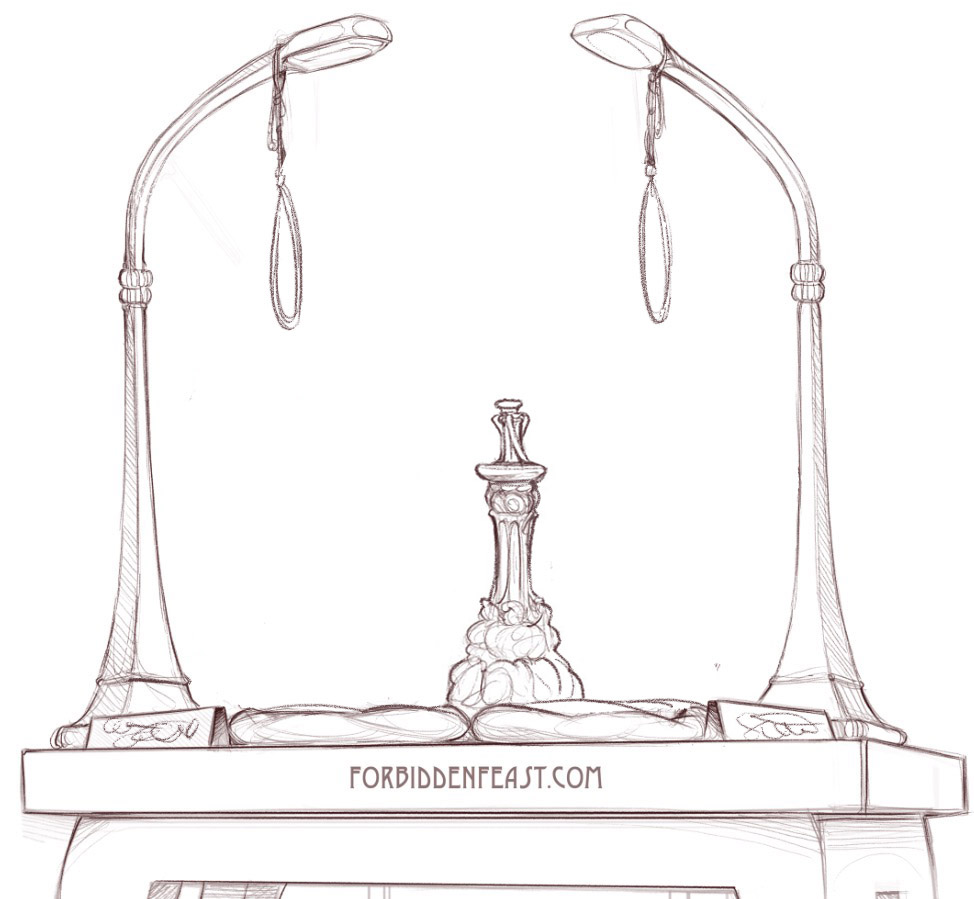 In a similar spirit to the past scene, we bring another setup that looks innocent enough. Ultimately, it's design is quite devilish once the secret is revealed. Clue: you may have seen it teased in the previous update, but a more detailed rendition with various styles is available here to ACOLYTE members or higher. We hope you like this view and perhaps a full colored version will be rendered. The only question left is with or without lingerie? Perhaps both?
---
III. ANSWER TO II
And here we have the secret revealed to the previous question in different variations.
---
IV. BONUS ART FOR DISCIPLES