This post contains 2 colored artworks and 2 works in progress for DISCIPLE members only. For more details on membership tiers, ways to support the site and how to purchase comics/collections, click here. The story, all names, characters, and incidents portrayed in this production are fictitious. No identification with actual persons (living or deceased), places, buildings, and products is intended or should be inferred.
---
Good evening, fellow patrons. Before continuing on our regularly dining schedule, there was a member who had sent a message through the contact form but I had no way to reply as the email he used was wrong. That gave me an idea to post it here as a sort of "Letters to the Editor" and post my reply here in hopes that the certain individual may receive it while the reply could also be informative to others who might be thinking of the same query. This is his question:
Hi, I have a question about your projects. What do the stories contain? Comics or written stories? How can I imagine that? I'm a client of yours from time to time. Your art is right up my alley. I love comics or short sequences, but not one-shots. My absolute favorites, were the superheroines. Unfortunately, those were just single images. That's why these questions. So just to be clear, you are a great artist.
Greetings P
My response which I hope he will see this:
"Hi, thanks for asking. My projects page are ongoing stories which I would like to complete. As of now, because they're so ambitious, they're not finished yet and in some way by showing my fans what I'm working on, they have a chance to support the project they like and I'll also know what among my ideas my fans want and help serve you all better. The way I do this is like making a jigsaw puzzle, fitting in a piece from time to time from all my current ideas & references, when one resonates the most or is almost complete, I will usually prioritize them. Superheroes & celebrities etc I don't do as much mainly because I don't own the IP, but I do them from time to time as commissions or when I feel like I have a good idea. So to make a whole comic for them is a little risky for me and I don't want to make my whole site all about it unless someone can use that as an excuse to take it down. So for these, I can do those, but only mainly for customer commissions or if there are a lot of my patrons that are calling for it, so at least to make the work worth while. But nonetheless, it doesn't stop you from dropping your feedback from time to time about which super-heroines or anyone else for that matter who you enjoy.
Sorry for the late reply, but I hope that answers your question. And thanks for your support!
And with that, here are the artworks:
---
The first two are more panels from the story thread, The Unholy See, where a couple of underground urban explorers from France, accomplices of the Doe Patrol manages to find themselves trapped and witnesses to a horrible ritual. Here, we see the fate of the female explorer who disappeared, one when she was still alive,...
... and the other, when she's not.
---
Here lies a trio of works in progress, one with a somewhat recognizable carcass being dismantled by hungry hungry hands. One of the very private parts are still very much recognizable in full view as one of the diners make a very intimate cut near the tender spot. And this next one is a sketch for the proposed story, Hikikomori which takes place in Japan, where fetish, sex, shibari bondage, and a search for meaning leads to a very nasty end to one of the willing sacrifices.
Finally we have a tamer piece, a familiar face, the Post-Millennial, posing herself for a self portrait, for the Green Man does know how to draw a woman like one of his French girls.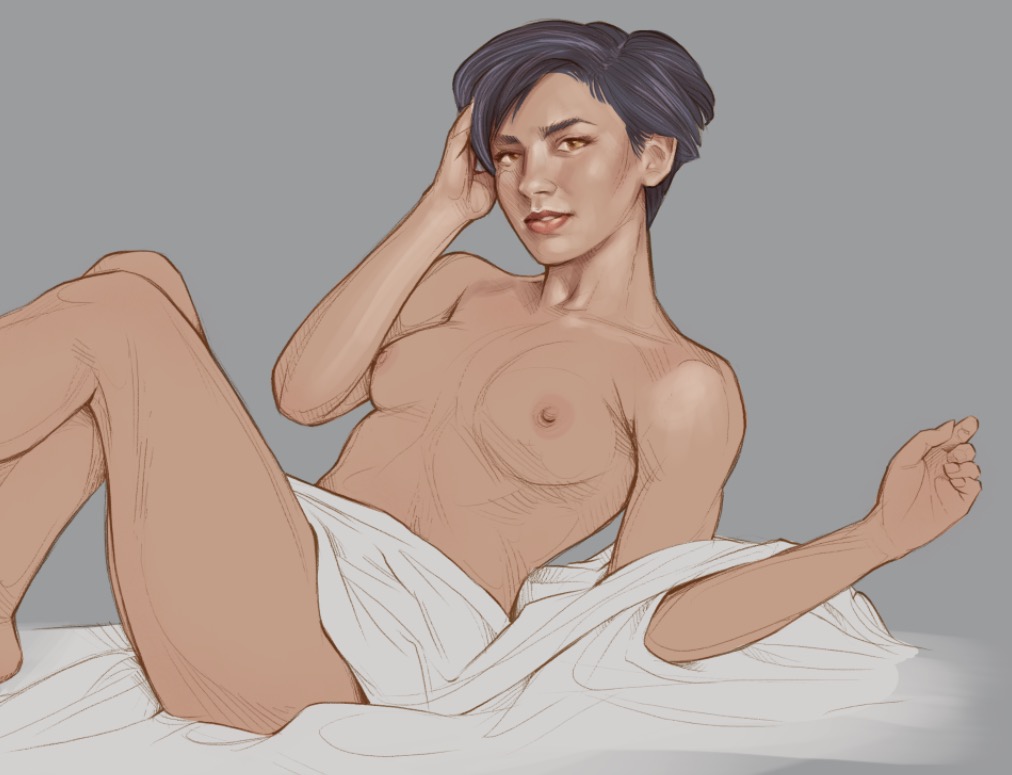 With this collection of artworks, I do bid you, bon appétit!