This update would've come earlier, but after finishing a piece and being on the verge of uploading, I would find something missing to the story and add on to it. And the same happens the next day and the next. So I hope you all would forgive me for this, but at least, when the content is uploaded, it is something that is worthy of the Forbidden Feast name. So I hope you folks appreciate the extra effort here for this Thanksgiving themed piece. After a few bumps with some technical and internet issues, I'm back to the grind and production should be back on track.
First off, here's a bumper story to make up for the slowed down updates in the past month. This is one you won't want to miss as this update includes 5 fully colored and illustrated drawings including 3 fully colored quality images. By the time you head off to see the relatives for the holidays, you will take home the knowledge that there might be a hidden history of this festive holiday that the powers that be -- those in the Circle, the Van Duynes and more in this exclusive club -- don't want you to know. I may put out another addendum to this update by Thanksgiving, as the aforementioned pickle that I've put myself into with the constant adding and retouching of my stories, as I have still unfinished sketches to add to this which perhaps I may add them later to this story.
For now, thanks for waiting, and bon appétit!
There are (5) premium full artworks for Acolyte, Disciple tier subscribers and above and 1 preview free image for non members. Click on the image thumbnail to enlarge. Sign up & log in to view to images by visiting our secret fine dining establishment. For more details on how to support the site and be a Gourmet Club member, or how to purchase comics & collections, click here.
---
1919, at the Dakota Apartments, Manhattan, New York. A brief conversation between Lord E., Baron of D. and Wallace Eaton, Butler of House Van Duyne.
---
She's quite an elegant bird, isn't she?
Quite so, sir. A little bit thin, or to put it more kindly, slimmer than for whom we assumed you have a fondness. We'd expected a plumper specimen.

Ah yes, I remember. Nine years ago in this very room, Dorothy, my Candelmas tribute. Yes, she was quite a well-padded pullet. But well, my dear Wallace, a bit of variety doesn't hurt. Big or small, black or white, each has their own unique flavor. This is what sets the hairless doe apart from domesticated creatures that mankind has entwined themselves into their common diet.
For example, hundreds and thousands of cattle in their fields, sows in their pens, I could go on... each animal is completely homogeneous to their fellows. Each being born to the same parent. Raised with the same diet. Bred in the same locale. So what do we have then? A lack of variety to their matter, that's what. How unremarkable!
Each fem however, is a new discovery! A brand new world to explore! To the layman, human flesh might taste all taste the same but for us special few who possess that special palate of connoisseurs, the difference is all the world! Was she raised on a complex European diet? Or a meatier American fare. Perhaps one that is Oriental less inclined to dairy. It is quite a pleasure to examine a woman's life through her taste. My God, the varieties are as endless as one that of the many vintages of fine wine and the uniqueness of one's facial beauty. So much to unveil! Did you know that this particular pullet was of noble stock?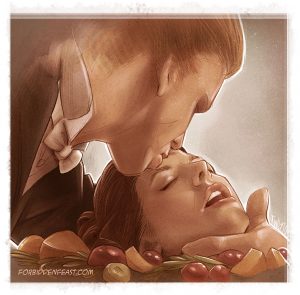 No, sir.
Yes. Well, almost. She had confided to me that she had engaged in a short, torrid and secret love affair with the Prince of Prussia when he was a student in London and almost married him on drunken impulse. To think that in a different life if the coin landed differently, she could be living a life as a princess, not as the lady of the feast. Socialites and royalties. Add to that another secret ingredient, the unpredictability of youth and that is how wars are fought, won and lost. I'm sure the Prince's parents would not have approved of him marrying an American.
Hah! Socialites. Both this young lady and our dear Dorothy do tend to drink and tell tall tales. As a matter of fact, I can taste that in her. A hint of sweet fruitiness of champagne, but that sensation could just have emerged only after my recalling of our conversation. I do apologize for prattling. I hope I haven't tested your patience with my stories.
Not at all, sir. I am thoroughly entertained.

As usual, Wallace, a man of few words. And that's what I like about you! At least share me in a toast. A drink to the Americans for Thanksgiving. An American bird for an American holiday! There's nothing better than a taste of sweet little revenge on an upstart colony by dining on their finest! A sweet corrupted twist of Lord Jameson and his escapades in the Congo, no doubt put to practice here in the heart of civilization!
Very good, sir. If I may dispel the myth of my lack of eloquence, I can add that the pullet, although thin of weight is also full of grace and I am confident that the Patriarch is more than pleased with your tribute this evening. As to the matter of the recently vacated position of Tetrarch, I'm afraid that is a matter still too close to call. Master Crowley makes as much a compelling case with his tribute. If the coin landed differently, as how you'd put it.

Well said, Wallace. Well said.
---