PUBLIC: 1 color artwork
DISCIPLES and higher: 2 colored & shaded artworks (including 3 variations of one composition) + 4 shaded works in progress + 3 black & white inks or sketches
For more details on membership tiers, ways to support the site and how to purchase comics/collections, click here. The story, all names, characters, and incidents portrayed in this production are fictitious. No identification with actual persons (living or deceased), places, buildings, and products is intended or should be inferred.
---
Dear Patrons.
As we enter into the year of the Tiger in the Chinese calendar, we present you the favorite feast of this ravenous creature, a beast who would eye that pale, pink and soft creature on two hind legs as a most rare and sumptuous delight. A short one still if you will as I continue to recharge my batteries after a challenging past year full of distractions, hopefully this year there will be one that can have one think of that creeping darkness as a cozy companion more than that as the uncomfortable shadow that stands at the doorway lurking and observing.
Ah but perhaps that is what you desire anyway. Nonetheless, a bit of a detour still from the usual Tales of the Vanished, this one's more of a fantastical approach, featuring a "cartoon/anime" style revisitation of a past commission I decided to dig up from the grave and see it through to its completion. I hope the fans of this style would enjoy this update.
Along with 2 other colored artworks, I also have some works in progress, four of them in shaded mid-stage and three in initial sketch stage. All of this round up to what I think is a very bounteous update! I hope my fellow patrons will enjoy this update to make up for one that is posted late into the new month, for that, I thank you for sticking with me. My thoughts are with you always and I always hope to maintain the quality no matter the cost!
Bon appétit!
---
Presenting the featured piece. I have forgotten of which franchise this has been adapted from that commission from ages past, but no matter, I saw this one sitting on my sketchpad unfinished and though, why not just dust this one off and send it to the archives. So here we are, a splayed out feast, two horned but adorable demon ladies dining on a delightful young quarry. I like how the colors turned out from this one. Happy accidents.
---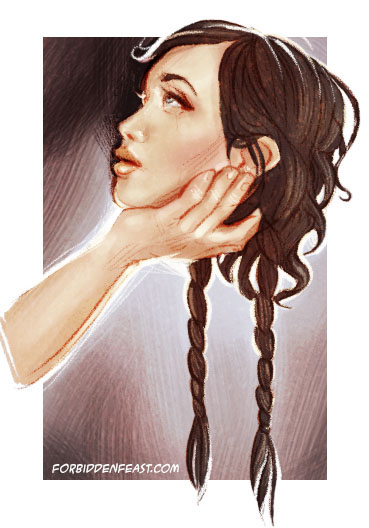 The second here (free for guests) is a planned piece I had done in relation of a larger piece which will one day feature on the site once I can dust it off from my sketchbook once again. A pretty girl's head is being admired such is the case with most trophies. But rest assured, the layout (once I can get it going) is quite ambitious and rather elaborate. Thanks for all who wait eagerly. I may post an unfinished version of the sketch soon.
---
The third is a stand-alone piece that I haven't attached to any one particular story yet. Another dust-off-the-sketchbook-and-archive sort of pieces. A slim piece made even slimmer by cutting the carcass in half lengthwise and roasted to a golden brown. Perfection.
---
The remaining are works in progress, developments of sketches I've done in the past or fresh sketches of upcoming projects.