This post contains 4 colored artworks (of which, one is free to view for visitors) and 2 sketches for DISCIPLE members only. For more details on membership tiers, ways to support the site and how to purchase comics/collections, click here. The story, all names, characters, and incidents portrayed in this production are fictitious. No identification with actual persons (living or deceased), places, buildings, and products is intended or should be inferred.
---
Firstly, I've just realized I may have absent mindedly posted an already existing artwork as part of the last update. For this I'll make it up with a little bit of extra content for this one in artwork. I have still not been in a headspace for writing, but as I build more artwork for each project, the story will soon follow. I've heard your calls that plenty of you like the stories as much as the artwork. I won't neglect them, but for now, here's bit of freestyle and foremost, a feast for your eyes. As you can see, I cannot sacrifice the quality of my art at any measure and while I'm able, I'll keep on building a collection of them to make a story for the ages, and if possible, superior to anything you see in the mainstream.
---
First we have to artworks of the lovely lady in the story, MAUSOLEUM in life. She's a little bit of a rebel, a little bit of a pünker. Courted by the Green Man in Germany. Amongst graffiti murals in heavily graffitied and muraled part of the city, filled with students, electronic music and döner kebab shops, he takes up an abandoned apartment and turns it into his home and waits. Like the tale of the spider and fly, will she step into his parlor?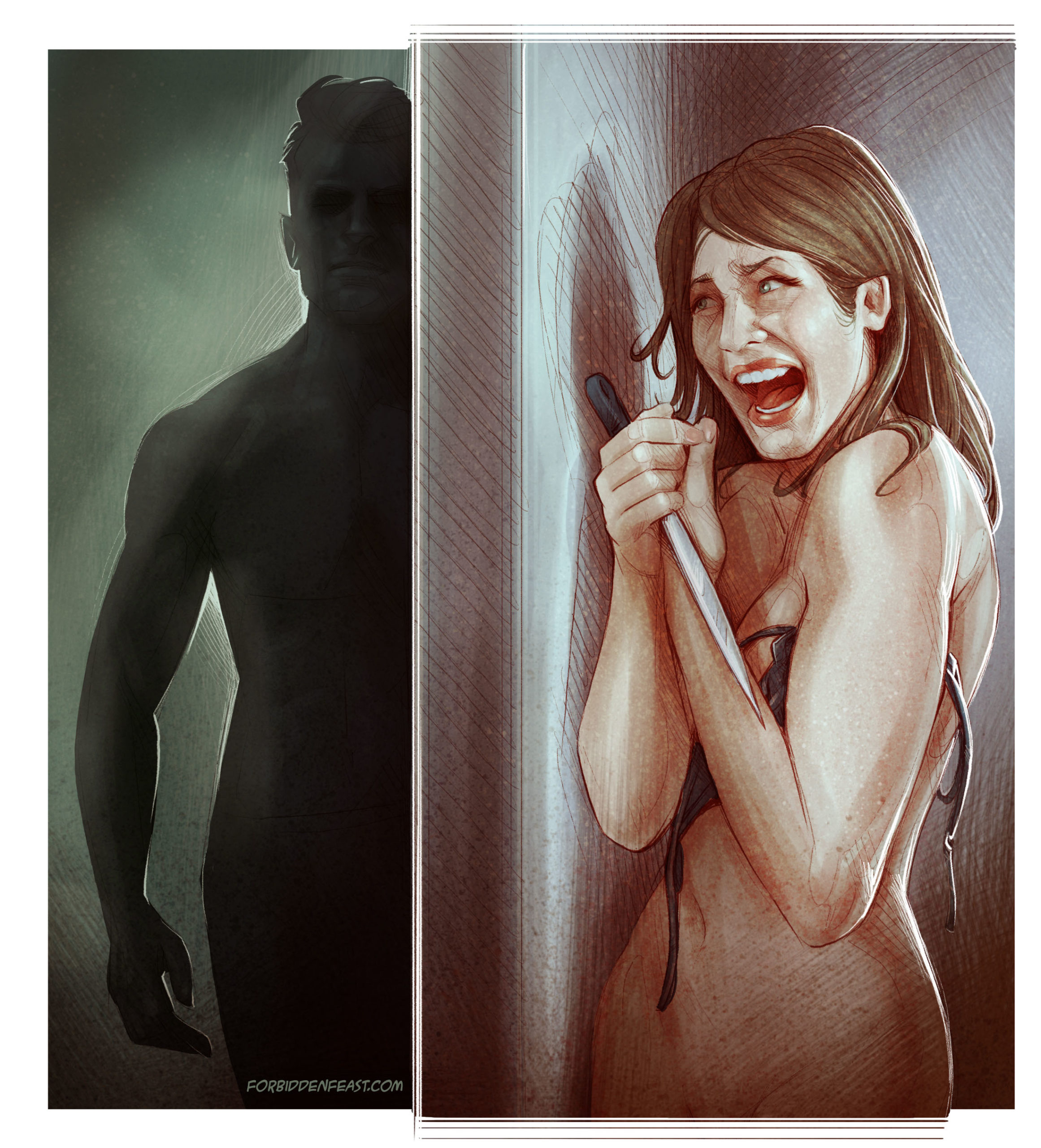 ---
Here, we have a little bit of a girl on girl action. The victor of the ritual sport, known as the Lua Mater, the winner survives, the vanquished is devoured. But in between, why not play a little game as an added insult to injury? What makes a woman, once a frightful prey, abused and threatened, slowly turn and become an ally of the very people that once wanted to see her on a platter? Stockholm Syndrome? A sense of worth and superiority over her very rivals? Could it be a slow devolvement into the darkest depravity of one's evil potential? Given enough time, anything is possible.
---
Next we have an Asian on the menu, courtesy of a very depraved Dictator who has had his way, unchecked for many years. What does one give to a man who has had it all? A harem? Check. A pleasure squad? Check. The finest food? Check. How about both together? Here you go. Sensual touches on meat that was once... but the panties, they are such a tease.
---
The following two sketches are (1) a scene at a bazaar, ambitious, and hopefully one that one I hope complete in due time and (2) a return to a scene at the secret abattoir somewhere near the mysterious Ute Mountain. How the blade slips down the naughty parts of a woman.
And this is it, vote up if you like what I do or leave your feedback too. I'm glad some of you are starting to be regulars over here, especially those with their special accounts. It does feel like a mini-forum here with some regulars. I appreciate you all, and hope you'll all have your fill. Bon appétit!