This post contains 3 NEW colored artworks & 1 NEW sketch of which there are 2 versions. For more details on membership tiers, ways to support the site and how to purchase comics/collections, click here. The story, all names, characters, and incidents portrayed in this production are fictitious. No identification with actual persons (living or deceased), places, buildings, and products is intended or should be inferred.
---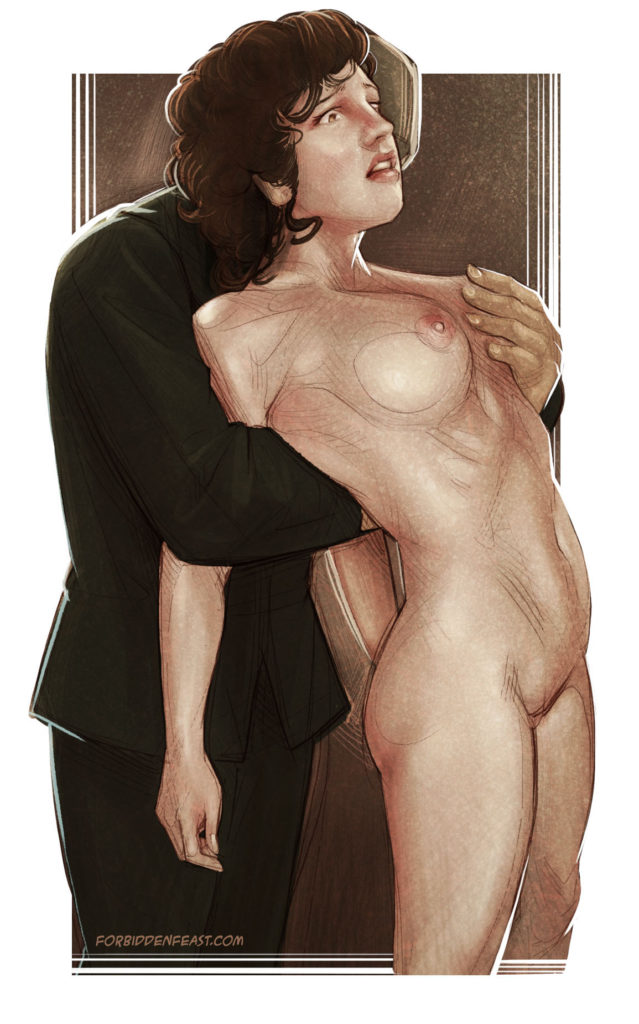 This update is a little late in coming, seems to be a habit I suppose, but I am as diligent in making sure you receive your gifts, dear diners and your continued patronage of my establishment. I apologize as usual, but hopefully the last bonus Carte du Jour was worth the wait.
The next updates for DISCIPLES as usual should come hard and fast. And the more brief I write and go straight to the point, the sooner you can appreciate the lavish banquets served within Forbidden Feast!
---
We begin with the first, a free feature, a girl, rich and wealthy, of ample bosom who once thought she was part of the elite until her father made a terrible business deal and an unholy bargain was struck with the Green Man! Another panel for the story, A WEALTHY SACRIFICE.
The second is a strange meal, roasted to golden red, before the garnishments of herbs, condiments and decoration, disassembled, dehumanized, save for one last vestige of humanity, feet lovers would appreciate. A possible companion piece to a familiar story, the PARLOR GAMES in Krasnodar from a post long ago.
The third is a love of one's craft, an individual known as the ARTISAN, servant of the family for decades, shamed chef with notorious disrepute and recruited to serve as custodians of the kitchens of the descendants of Asterion. Once a reluctant hostage, now a loyal servant who relishes in his craft in presenting the beauty of the hairless doe in its more perfect way.
And finally, the fourth (or fifth) is a sketch of a piece commissioned for me, (I present you 2 version) of another pampered girl who lived in life of privilege and luxury, so sure in her righteousness that her end had proven most delicious in her ironic downfall. The story takes place in the Sin City, behind one of the many secret rooms in a casino hotel whose ownership is of a secretive sort. She is purchased, dehumanized, objectified in a most ultimate sort. In the end, presented in a way as lewd and so humiliating the person she was in life would render her pale and speechless (in more ways than one!)
---
Again, thank you for your continued patronage as we bring you more art. Hopefully the stories will come in due time, even though the jigsaw puzzles are slowly being placed, one can see the grand design, especially those who have been with us since almost the beginning.
With our usual sign off, we bid you bon appétit!