There are five (5) NEW coloured artworks for ACOLYTES & DISCIPLE members & above of which one (1) of them are free to view for all. Sign up & log in to view to images by visiting our secret fine dining establishment. For more details on membership tiers, ways to support the site and how to purchase comics/collections, click here. The story, all names, characters, and incidents portrayed in this production are fictitious. No identification with actual persons (living or deceased), places, buildings, and products is intended or should be inferred.
---
What a crazy year it has been and it looks like things aren't really letting up. But let's leave it all behind us out there, and in here, my dear Acolytes, Disciples and the rest your my treasured patrons, in this dark and cozy cabin in the middle of a storm, stay by the hearth and let the sweet smell of sweet sizzling long pork quench your stirring nerves and sate your ravenous hunger away from the maddening horde and hope for a better tomorrow.
Before the content, here are some housekeeping in order, a brief State of Forbidden Feast if you will for the coming year of what I plan to do as a New Year's Resolution for 2021.
As you all may know, lots of the artworks I post at the Carte du Jour are snippets of various stories which I'm working on concurrently and will be a means to an end to publish collections of complete stories. I will begin adding more items at the store more frequently after it has made a year's hiatus, mainly comics and along with that archived collections. The biggest difference will be that the comics will be smaller and stand-alone stories instead of an edited collection. I've found that the magazine approach was too time consuming and this also allows for more flexibility in choosing which stories to purchase while also making it cheaper. So look to the SHOP area for more items coming soon!
I will create a new membership for each member as a default and if you're not receiving access details, especially on Patr**n and move away from the mass-blast mailing list approach as many of you are still not receiving the new passwords each month or that the mails are ending up in spam folders or being blocked.
Also a note about Carte du Jour updates schedule. Even though ideally I'd like to post it at the 1st few days of the month, practically it works better as I let the billing period settle through the various payment gateways, then organize memberships & subscriptions for the month and before I can post the content. So look to updates happening sometime between the 1st and 2nd week of the month on a similar timeline to this post.
Others on the horizon, is that even though I already have a bitcoin option, I'm also looking to set up a Cryptocurrency portal for Bitcoin that's easier to use at a push of a button.
As usual, I'm open to any suggestions on how to improve the site. And on to the content, some previews of projects I'm working on & aiming to finish soon.
---
Aurael v Mandora continues ...

Years ago, I started on a comic called Aurael vs Mandora, a battle between an Angel and a Demoness. The fight will end up with one on the platter and we have left it after one of them had been vanquished. Now, I hope to complete the story, through swirling sets of emotions, the delicious violations that were perpetrated on the corpse of the dead lover.

---
Napa 1976...

I have begun to finish more panels on some past comic stories, one of which includes this one, which some of you may recognize from the Archives, titled, "Elaine 1976". The sadistic and powerful members of the Circle, one that involved dictators, clergy, and ex-Nazi doctors has brought themselves a live witness to their debauchery. Their darkness knows no bounds as it would soon be revealed.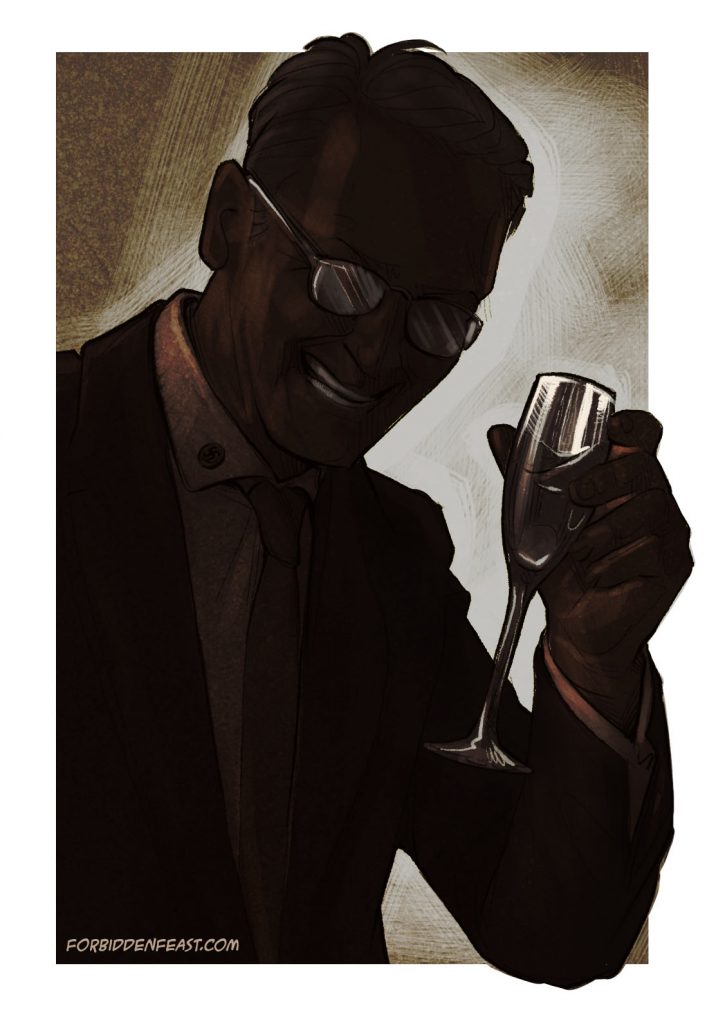 ---
Wynn's Roadhouse ...

Another tale one remembers is that of "Judy 1977", another one that's a work in progress. Here's a snippet of the Japanese delegate an employee of a certain restaurant who's guests had their pick of the lovely waitresses to grace their barbecue pit.
---
Rarotonga ...

Another series thread takes place in Rarotonga, where a member of the Circle has the penchant of whisking away lovely ladies on an island escapade only for them to land on an island with a cannibal past, hoping to coerce the local population into reviving their past dietary habits.
These are works I've been concurrently working on and more, such as the backstory of the gynophagic cartel boss involving his first feast, a collection of super-heroines perhaps even a sequential story involving a single super-heroine who falls victim to The Connoisseur, and many others that I've featured in past Cartes du Jours. One could say that this year, it would be my aim to complete some of them instead of leaving them hanging, or perhaps one that's not posted here... whichever inspiration strikes me to complete it, but whichever the case, for those who have known my usual content, expect for the same quality if not higher.
With these, my fellow Acolytes and Disciples and Patrons with more seniority, I wish you a grand New Year and a hearty bon appétit!
---