There are three (3) premium full colored artworks for Gourmet Club subscribers and one (1) free image for all. Click on the image thumbnail to enlarge. Sign up & log in to view to images by visiting our secret fine dining establishment. For more details on how to support the site and be a Gourmet Club member, or how to purchase comics & collections, click here. The story, all names, characters, and incidents portrayed in this production are fictitious. No identification with actual persons (living or deceased), places, buildings, and products is intended or should be inferred.
---
Greetings friends.
As you know, I'm running all these different platforms (see Deviantart, Pixiv, Hiccears, Subscribestar, Patreon, Twitter, Pulptoon, DGF forum etc) and managing supporter relations and interactions. it's a lot of busy work and a lot of business end matters, and you all guys know I'm at heart, an artist and writer. With the dark & NSFW kind of work that I do, it's challenging to promote or find a platform that'd help me sell my work and I rely on word-of-mouth from my supporters. In the end, I've found myself inundated with periphery work which takes me away from doing what I do best, which is just to draw (and write).
And so I've decided that the solution is to streamline my platform to reflect my niche audience is to change the support structure pricing and create two tiers. This new tier will be called "Disciple" will be the main membership where most of you can view my works at $28 per month. Yes, I will be charging more but I'm going to be drawing a lot more too and providing regular updates with high quality artworks and WEEKLY updates including works in progress, commissions, stories and Tales of the Vanished stories.
However, I will also opening another tier called "Acolyte" (or "Forbidden Feast lite" in another words) at $8 per month for those who just want to support me but can't afford the higher tier, or those who are not familiar with my work and would just like to know what I have to offer. This tier won't be as frequent, I'm planning for a once a month update, but it's a way for some to see some NSFW content without paying too much which would otherwise be restricted on other social media platforms but leaves an option for some of you to support me and still see some NSFW content.
I will also leave up the $50 and higher tiers (Apostle, Tetrarch, Diarch & Patriarch) for those who would like to contribute more for me to keep going while also at these tiers, suggestions for future works or customs will hold more sway for higher-level contributors. I have a few patrons at these levels and I'm ever grateful to you. I hope to ever more listen to your suggestions for future artworks and maybe even incorporate them into my stories in the world of the Tales of the Vanished.
With this new system, I hope to be doing news and updates updates more frequently at a weekly level such as works in progress, commissioned works, sketches, ideas along with full works you have grown to love. I'll still post occasional news on the other social platforms but here is where most of my news will be posted. Why am I posting stuff on Deviantart, or Pixiv when I should be focusing my efforts on expanding my content here?
In the end, I hope that this will help me create more for all of you whom I appreciate and not deal so much with this extra back-end matters. For those who have supported me or shared my site on social media, thank you so much for your support, I couldn't have lasted this long without you.
As a bonus, those of you who have been members at the $15 tier will be granted this $28/month benefit in to this new monthly fee without extra cost as long as will continue to do so as long as you don't unsubscribe and I think this seems only fair. I will give members at least a week to subscribe at the $15 tier until the middle of March before the change so you'll have a about a week or two to subscribe now. Also in hopes of being more interactive with my supporters, for those who request it, members at this tier can also have the option of creating a personalized account. Just send me a DM through Patreon/Subscribestar/Hiccears, email or at the CONTACT PAGE with your account name and payment details and I'll create one for you so you can leave your messages, suggestions and feedback on the site so I know who's who instead of the default "gourmetclub" account. This will hopefully create a more personalized & active community around here, where you can leave your feedback and based on our interaction, possibly see artwork more directed to your fantasies.
Finally, all archives and comics will now be exclusively sold at my Hiccears page. I will be removing the options from Patreon & Subscribestar in regards to this to make this less confusing. You can still message me directly through Google Pay or Bitcoin, but to cut down on my workload, I won't promote this option as much so I can focus on the comics instead of handling customer relations but if you send me a message at the contact page, I will help get you the comics.
This system will begin to take in effect starting the next update early or the middle of March.
To simplify this in a list, in hopes of being a lot more active in updates, I'm three tier levels of membership and here's what you can expect.
Acolyte (Lite Tier): $8 per month - Once a month Gourmet Club update.
Disciple (Main membership Tier): $28 per month - Once a week Gourmet Club update with more access to past updates & bonus content. Option to create a personalized account here.
Apostle/Tetrarch/Diarch/Patriarch (exclusive level): $50/100/150/300 per month for those who are feeling more generous to help see me keep going and send me various suggestions as opinions of supporters at this level will hold more sway along with the aforementioned benefits as a Disciple member and to create a personalized account.
This new approach could be risky but I feel is more reasonable to reflect the work I do & help me keep creating content like this that you know and love. Hope this all makes sense & points us into a better direction and more delicious artworks! Send me your feedback if any. They're always welcome.
For now, here's what you've been waiting for... some artworks for this latest update! These three can be considered some of my best and favorite works so far and what you can expect with the next phase of this site's future to reflect the change in the support structure.
Bon appétit!
---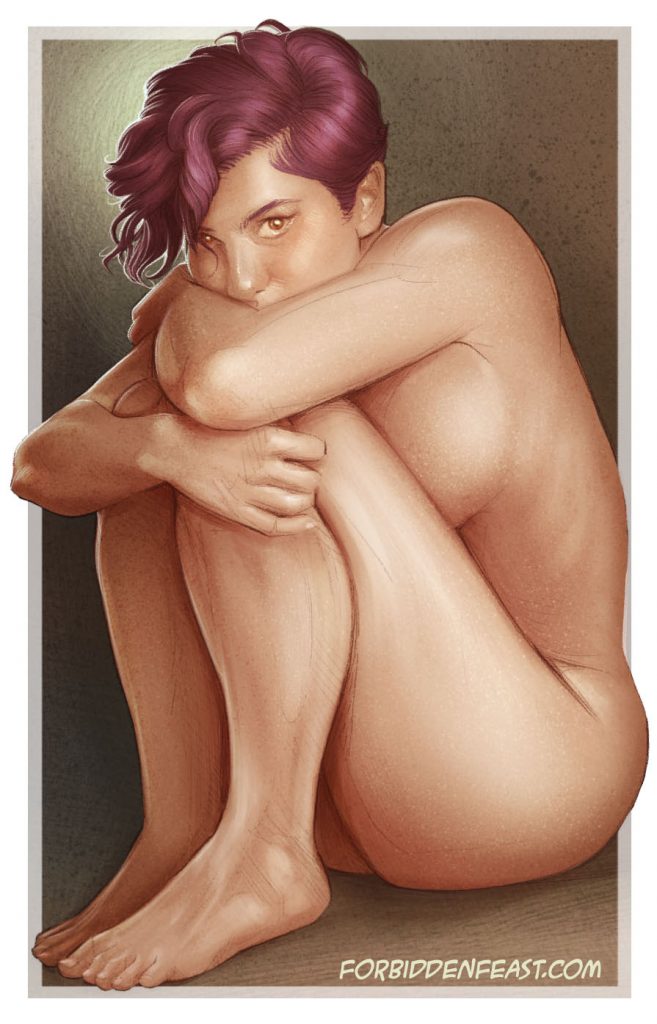 The 1st is an upcoming series featuring a romance story of young, talented, fiery defiant young woman, strong at heart and a representation of the modern millennial woman. Her nightmare would be to be treated like a mere object and meat by reprehensible me. A feminist who meets a mysterious and handsome stranger, her ideals of the modern man, Lucian Van Duyne. Against all of her instincts, she falls for him. He embodies everything she desires in the modern man, a listener, warm, successful, sophisticated and also supportive of her desire to be empowered. Little does she know, that would be revealed as a ruse. This modern-day James Bond Casanova would turn out to be a member of the Circle, grooming her to be a most delicious quarry and ultimately, realize her most heinous nightmares.
The 2nd reveals a 2nd variation of a scene from update #153. I couldn't help but feel the need to work on an alternate take on this scene and in the end, I really like how this turned out. A showcase of the sum of a woman's parts, on display, ready for a most expensive auction. Bidding starts at a most elevated price, but for the opportunity to rub olive oil into forbidden crevices and smooth feminine skin, it could be a price worth paying especially for the members of the Circle.
The 3rd is a scene of horror and beauty. Three lambs for the slaughter and prepared for the larder of the members of the Circle. Rare delicacies for rare appetites. Long and lanky, slender and curvaceous. No other flesh animal provides an equal measure of aesthetic visual beauty and sophisticated taste.
The 4th is a crispy golden roast of an able-bodied fighter. Another vanquished foe of Lua Mater Satania. She fought hard but fell. Live as the Lua Mater, or die as a feast. Eat or be eaten. Such is tradition that lasts over a millennia in this secret gastronomical society.