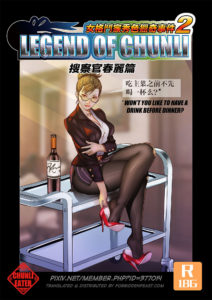 How to purchase:
Click on the button with the Product Code: CLECLI02
Make your payment & download the ZIP file
Type in the password "forbiddenfeast" to open the ZIP file
Enjoy!
Artist Chunlieater's 2nd issue of this series takes place after Chun Li discovered a CD revealing the horrible fate of Mai Shiranui and her friends, King and Yuri at the hands of Iori, Vice and Mature. Horrified, she watches this piece of evidence, but slowly she begins to feel a sense of arousal despite watching her friends meet a very delicious end. (24 pages). Warning: there are scenes of nudity depicting violence, and gore. Visitors beware!
Please note that this archive is sold separately from the Gourmet Club Monthly Subscription Area.
Preview: